Extrusion Process
The process of blending plastics with other ingredients to create new polymers is known in the industry as "compounding".
The compounding process allows polymer chemist the opportunity to improve the qualities of standard plastics. These new plastics can be stronger, more flexible, or more resistant to the elements than their original components, depending on the needs of the project.
At General Polymer Services, our team of experts will apply their knowledge of compounding to develop the materials you need for your next project.
HOW PLASTIC COMPOUNDING WORKS
The compounding process involves blending specific polymers and additives in a liquefied state. These polymers can include PP, PE, TPE, and many others. The additives can bring the desired qualities to the finished products.
The compounding action itself can include heating the ingredients to help them blend, mechanical actions that bring the desired components together, or use chemical interactions between the ingredients to aid the process.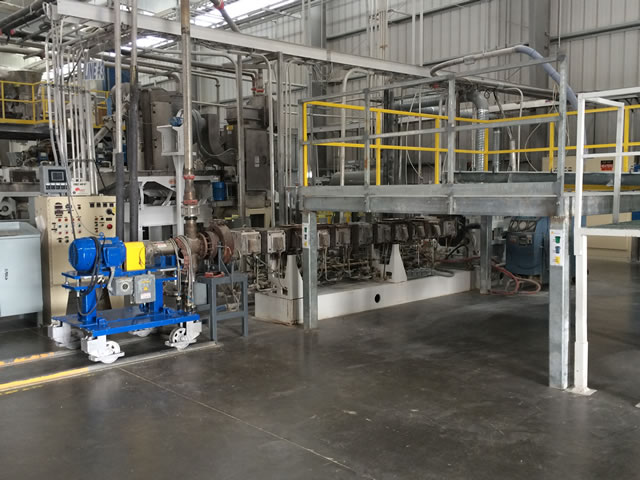 Compounding Technologies
The team at General Polymer Services uses the latest in polymer compounding technologies. We employ a wide range of compounding equipment so that the final product meets our customers' needs. Our equipment includes:  Farrell Polimi Continuous Mixer  Werner Pfleiderer Twin Screws Extruders  Single Screw Extruders Our facilities meet all ISO and cGMP standards for both quality and safety, and our polymer testing laboratories ensure that we only deliver the highest-quality products.
Compound Types
The staff at General Polymer Services have worked on numerous types of polymer compounding projects. Some of the compound types we have worked with include: • Biobased Compounds • TPV Compounds • Engineered Materials Compounds • Filled and Reinforced PP Compounds • Flame Retardant Compounds • Polyethylene Compounds and Masterbatches • Colored Compounds • Soft Touch TPE Compounds • Specialty Compounds • TPO Compounds
Compounding Applications
General Polymer Services has handled polymer compounding projects for a wide array of applications. The applications for polymer compounding range from the practical to the aesthetic. These applications can include: • Color changes • Durability • Weather resistance (fire, heat, cold, UV light, etc.) • Electrical conductivity • Tensile strength/flexibility
GPS Compounding Clients
Our clients for polymer compounding services are among the leaders in a diverse group of industries. These industries include: • Blow Molding • Film Production • Injection Molding • Profile Extrusion • Roto-Molding • Sheet Extrusion • Wire and Cable Extrusion
Compounding and Confidentiality
The specialists at General Polymer Services understand the sensitive nature of our customers' project information. We know that a specific polymer compound can give our clients the edge they need in a highly competitive business environment. Our team take every precaution to safeguard all communications with our clients, regardless of whether those communications are verbal, written, or electronic.
Contact Us
Let the team at General Polymer Services show you how we can work with you on your next polymer compounding project. Our techniques can help you boost your manufacturing capacity, without the high cost of capital investment or the inconvenience of long installation times.
To learn more about how we can help you with your next project, email us at info@generalpolymerservices.com or call us at (281) 424-4673.